Achilles Pain ?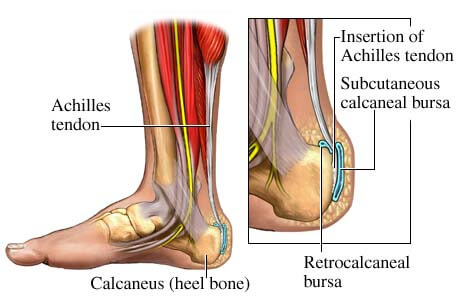 1) NOT all posterior heel pains are tendon problems.
We will provide a thorough examination, which includes radio graphs, and clinical exam with history taking to provide the best possible outcome for your pain. There are several other structures which are present and could be treated in a different manner than any straight forward Achilles tendinitis. Noted above, there is a bursa which is present here and can often be the root cause of pain secondary to bursitis. This is treated differently than Achilles tendinitis. This may also require MRI to determine how much of the inflammation is related to bone versus soft tissue. Additionally, and more rarely, a stress fracture can cause this pain in the calcaneus. This is not common but we check for this as well.
2) Tendon tears do NOT always require surgery.
After clinical examination and proper staging/grading of the extent of the tear, we have had success in treating Achilles partial tears and even ruptures non-surgically in select patient populations. We have a variety of techniques at our disposal in order to facilitate the healing process if surgery is not indicated. In the case of chronic tears there are several nonsurgical treatments that work, particularly PRP injections, High energy shock-wave treatments, and even physical therapy with anti inflammatory ultrasound.
3) Bone spurs are NOT always relevant.
Often times patients will state that they "Have had a spur in the past but it went away". Usually any bone protuberance which is either palpable or visible on a plan radio-graph or MRI will NOT go away spontaneously ever and always if indicated will need resection if it is the root cause of the symptoms. In most cases the spur is not the root cause of the symptoms, and is not required to remove it, but there are far too often very large spurs which are not even symptomatic that are visible on X-ray examinations in many of our patients, therefore backing up further the concept that bone spurs are not always the real problem.
Bio-mechanically a bone spur will exist in areas of either repeated chronic trauma, or areas of chronic taut insertions. Rarely is this an isolated tumor of bone, and that being said, it is often not necessary to remove the bone spur.